Herzig Eye Institute in Press Releases on September 21, 2022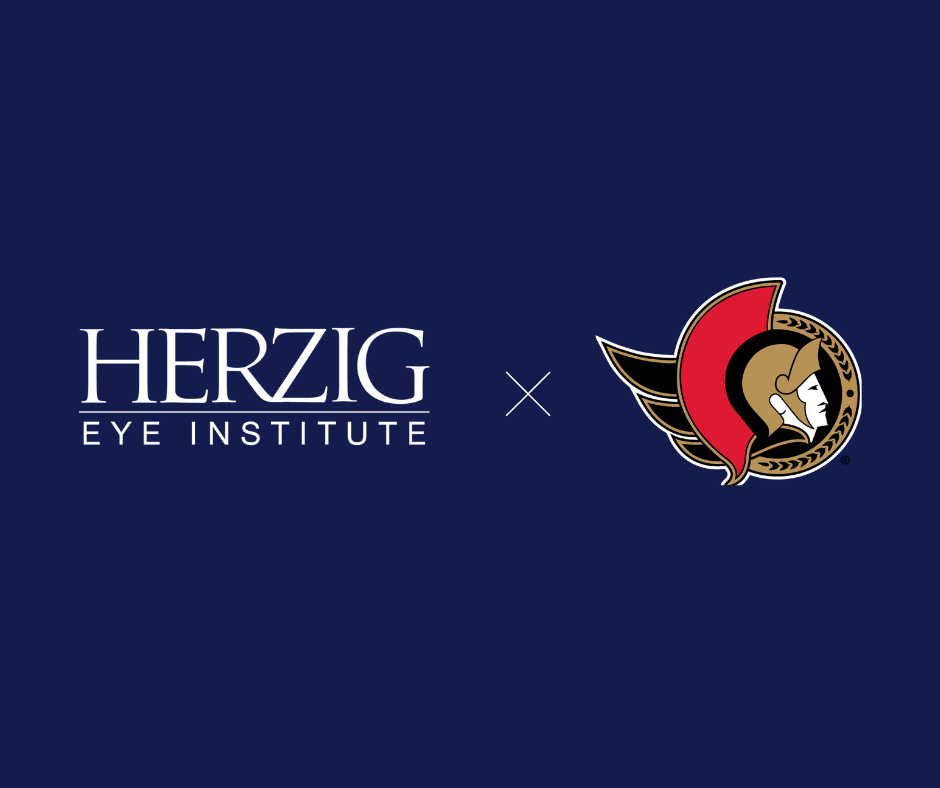 OTTAWA, ON – September 21, 2022 – Herzig Eye Institute (HEI) Ottawa is excited to announce a new partnership deal with the Ottawa Senators naming Herzig Eye Institute the Official Laser Eye Centre of the Ottawa Senators. HEI Ottawa will leverage the enormous reach of one of Canada's legendary hockey teams to further fuel its brand awareness in the community and connect with fans and athletes in the Ottawa market.
Launching this fall at the start of the 2022-2023 NHL regular season, this is the first major league sports partnership for Herzig Eye Institute, one of North America's leading vision correction and cataract centres.
Herzig Eye Institute expanded into the Ottawa market in January 2020, opening its second Ontario location with a 13,000 sq. ft. state of the art facility. With a world- renowned surgical team specializing in refractive and cataract surgery, and the most advanced diagnostics and technology available, both the Ottawa and Toronto facilities offer a full range of High Definition VisionTM solutions customized to each patient and their specific needs.
"Like the Ottawa Senators, both of our dynamic teams are highly specialized and hyper-focused on achieving the best results possible," said Cherry Tabb, co-founder and CEO of Herzig Eye Institute. "We want to get people back to enjoying their favourite activities and sports with better vision and look forward to our continued growth in Ottawa."
Over 25 years in operation, Herzig Eye Institute has treated thousands of recreational and professional athletes seeking laser vision correction. "Athletes require precise vision to optimize their athletic performance and know that having the best vision possible is a game changer," said Dr. Kashif Baig, Medical Director, Herzig Eye Institute Ottawa. "Patients trust our team of skilled surgeons to provide them with the freedom from glasses or contacts they need to feel their best and give them the competitive edge to be at the top of their game."
"The team at Herzig Eye Institute are leaders in their field and we are happy to welcome them to the Ottawa Senators family," said Martin Ballard, Vice President Corporate Partnerships, Ottawa Senators Sports and Entertainment. "It's wonderful to partner with an organization like Herzig who shares the same values of commitment to our community."
For more information visit www.herzig-eye.com or follow us on Facebook, Instagram and LinkedIn
***
ABOUT HERZIG EYE INSTITUTE
Established in 1995, Herzig Eye Institute is one of North America's leading vision correction providers with two locations: Toronto and Ottawa. With over 25 years of experience, a world-renowned surgical team, precision diagnostics, advanced technologies, personalized service, and exceptional patient care, Herzig Eye Institute specializes in providing a full range of safe, vision correction procedures: Laser Vision Correction (ZEISS ReLEx SMILE, LASIK, PRK), Refractive Lens Exchange, Intraocular Collamer Lens, Precision Refractive Cataract Surgery and Laser-Assisted Cataract Surgery, plus treatments for presbyopia and dry eye. Under the leadership of Cherry Tabb, CEO and Co-Founder, Dr. Sheldon Herzig, Co-Founder and Chief Medical Officer, and Dr. Kashif Baig, Medical Director of Herzig Eye Institute Ottawa, the surgical team have performed over 200,000 life-changing procedures for patients from all around the world. Visit www.herzig-eye.com to learn more.
ABOUT OTTAWA SENATORS
One of seven NHL franchises based in Canada, the Ottawa Senators returned to the league in 1992 following a 58-year absence. Ottawa won 11 Stanley Cups during its original reign from 1903 to 1934. The modern-day Senators have captured four titles in the Northeast Division and a Presidents' Trophy in 2002-03. Since 1992, the Senators together with its foundation, alumni, partners and fans have now contributed more than $100 million to community initiatives in the National Capital Region. For more information, visit www.ottawasenators.com.
Microsoft Word – HEIO – Ottawa Senators Press Release 9-19-22.docx
CONTACT: Beth Merrick
416-473-9881/ pr@herzig-eye.com