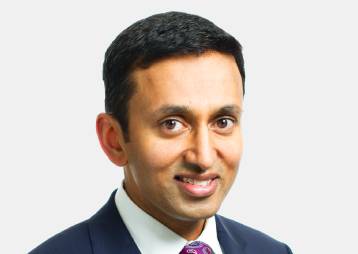 Dr. Anuj Bhargava is a highly experienced cataract, refractive, and anterior segment surgeon.  He completed his bachelor of science, doctor of medicine and residency in ophthalmology at the University of Ottawa, receiving numerous scholarships, research grants, awards and distinctions at all levels of study. Dr. Bhargava then went on to complete a fellowship in cornea, anterior segment, and refractive surgery at The New York Eye and Ear Infirmary in Manhattan. It is the oldest specialty eye hospital in North America and receives the highest number of ophthalmological outpatient visits per year in the United States.
Over the years, he has performed well over 10,000 surgeries including cataract, cornea, and refractive surgery procedures.
During his training, Dr. Bhargava had his work published in several journals, including the Canadian Journal of Ophthalmology, and has written a chapter for the textbook Cornea. He has presented his research at over half a dozen national and international conferences and won the Best Paper of Session award at the American Society of Cataract and Refractive Surgery's annual conference.
Dr. Bhargava is a lecturer at the University of Ottawa Eye Institute. He is involved in the bilingual teaching of medical students and residents in both the English and French programs of the University. Dr. Bhargava regularly delivers lectures and is involved in the surgical teaching of cornea, cataract, and anterior segment surgery in the ophthalmology residency program. He is a staff ophthalmologist at four Ottawa area hospitals, including The Ottawa Hospital and L'Hôpital Montfort.
Dr. Bhargava is also actively involved and has completed 10 years of service with the CNIB Eye Van program, which provides ophthalmological care to prevent blindness and promote vision health in underserviced areas of rural northern Ontario. He serves as a member of the medical advisory committee for the Eye Van program. Dr. Bhargava has also served as an executive member of the Eye Physicians and Surgeons of Ontario.
Back